Misting System: Automated Sanitizing System
Automated disinfection systems
Automated Sanitizing Misting System, disinfection systems, are able to eliminate odour and effective to kill 99.9% of virus and bacteria commonly found airbourne in enclosed area or on any surfaces for efficiency safety measure management system.
Self-Sanitizing Equipment
Our proposed suite of self-sanitizing equipment (misting system chambers, tunnels or tentages) will be fitted with high pressure pipes that has atomizing nozzles installed in them. We will make use of a high-pressure water pump to pump sanitizing solutions (that are safe for human skin contact) through the piping set up. This will create a 'misting' effect on to the body of the person with our choice of skin-safe sanitizing solution, giving one an instant full-body clean-down.
The key idea here is not to 'kill' coronavirus or covid-19 using these but rather help affected personnel working or living at identified clusters maintain a high level of general hygiene and cleanliness as they go about with their daily chores and duties. This allows us to put in place an efficiency safety measure management system.
Misting Sanitizing Solutions
Safe on human skin after diluting
Recommended to use Safely Glasses and Mask when there's prolonged exposure to solution
Made of fully biodegradable material
At 1:20 Dilution: suitable to use for both hand sanitization and wipe down
Automated Misting Sanitizing Chamber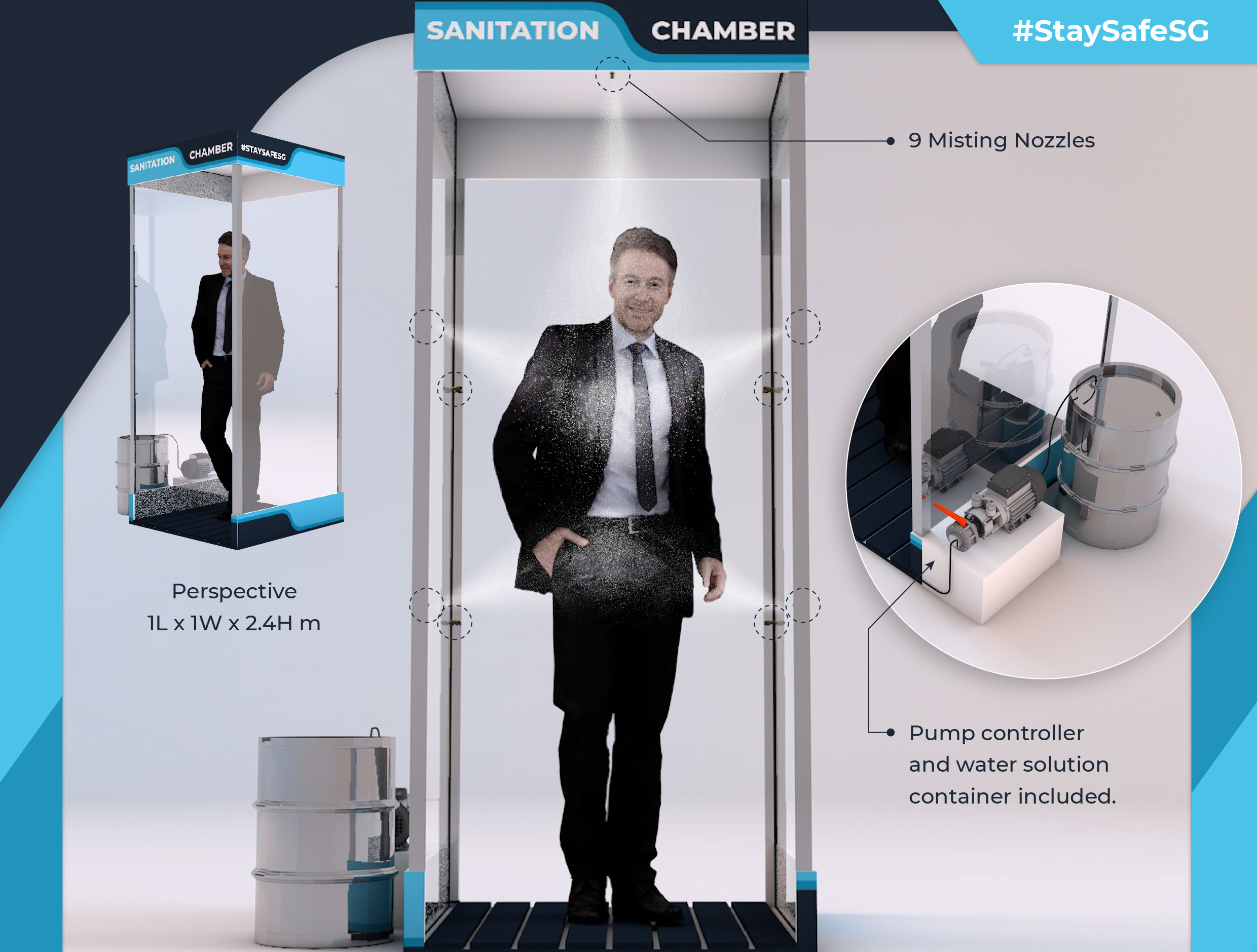 Automated Misting Sanitizing Arch
Dimensions: 3L x 1W x 2.4H m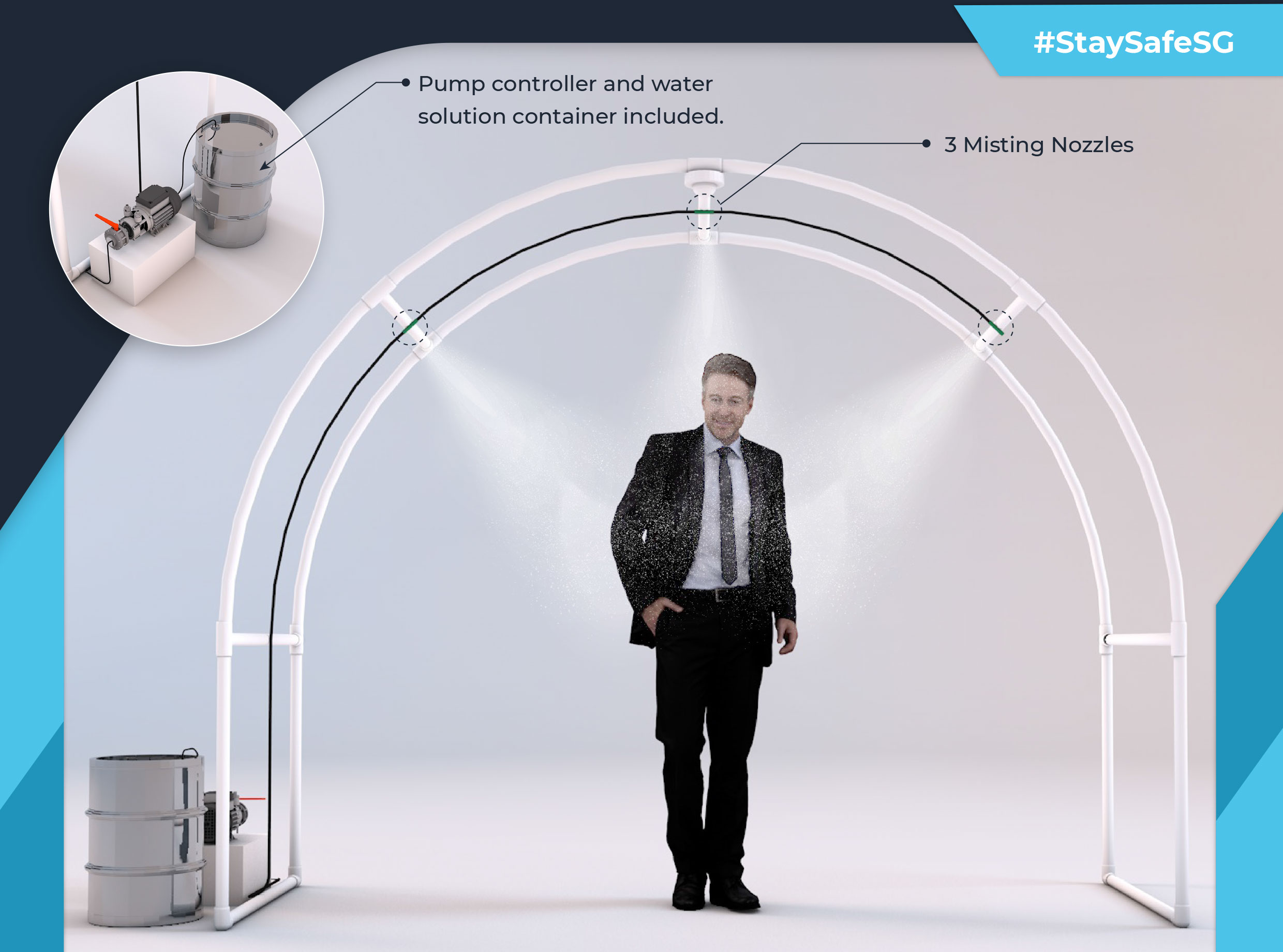 Automated Misting Sanitizing Tentage
Dimensions: 1.2L x 2W x 2H m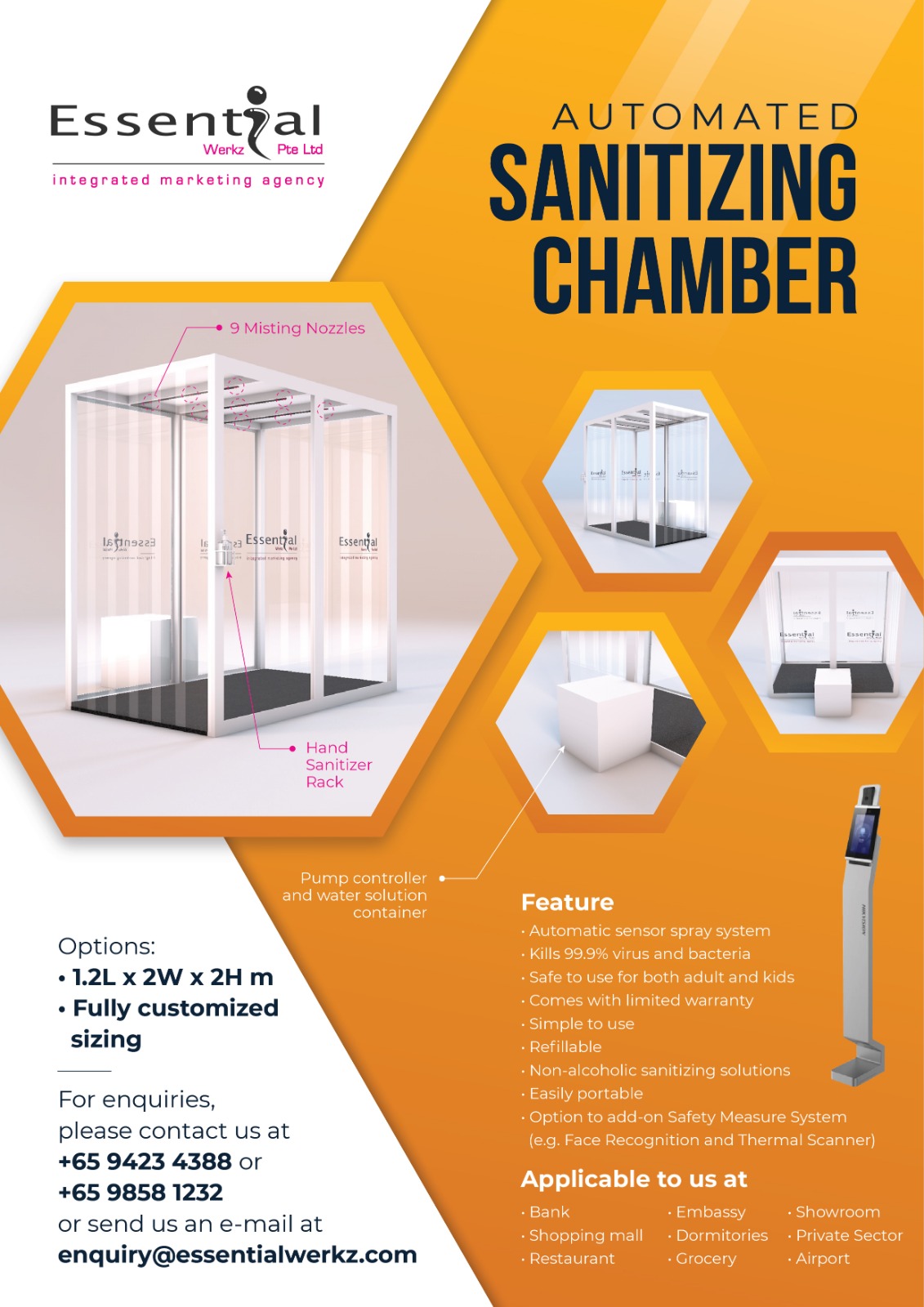 FEATURE
Automatic sensor spray misting system
Kills 99.9% cornovirus corvid-19 and bacteria
Safe to use for both adult and kids
Comes with limited warranty
Simple to use
Refillable
Comes with customizable advertising graphics
APPLICABLE TO USE AT:
Bank
Shopping mall
Restaurant
Embassy

Dormitories
Grocery
Showroom
Private Sector
Airport
Automated Misting Sanitizing System with Safety Measure Management